How The
Creative's
Planner Works
The Creative's Planner is not intended to replace a diary. The goal is to use it as a tool to help unleash your creative thinking and ideas in a dedicated paper environment.
There is space each day, spread helpfully over two pages. The pages are undated, so you don't waste any paper for days you may not want to create on. Pages have a space to write the date and circle the day, so you can keep track.
Read about the planner features in more detail below.
"I raise up my voice—not so I can shout, but so that those without a voice can be heard… we cannot succeed when half of us are held back."
– Malala Yousafzai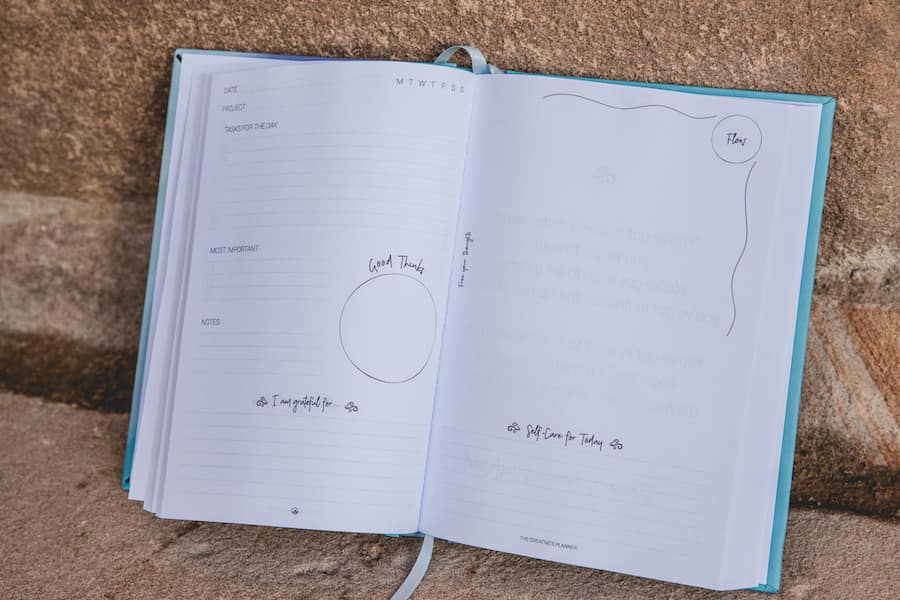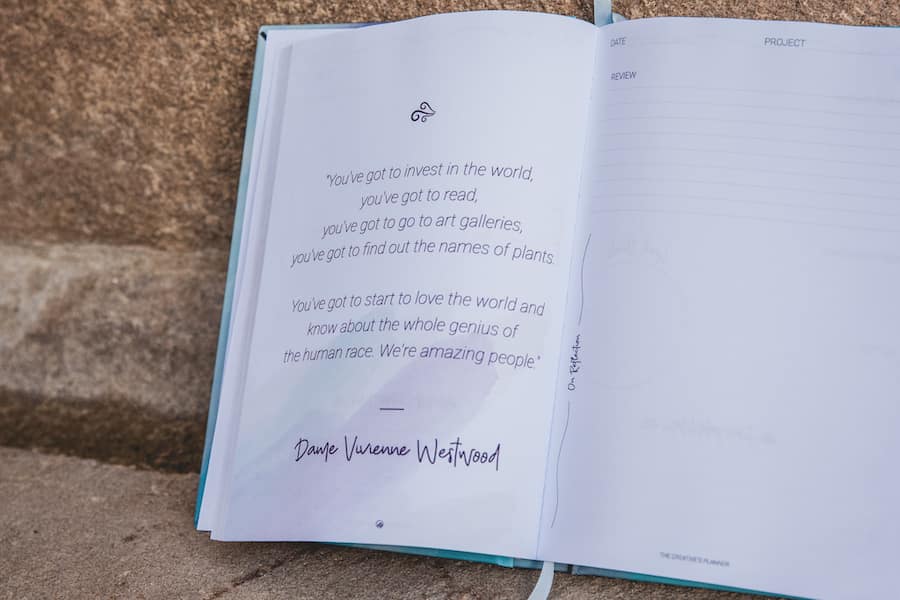 An undated double-page daily layout
Tasks for the Day list space
A separate Most Important section – this is to help avoid task overload, providing three spaces for your priority tasks.
Good Thinks: A handy circle for spontaneous ideas! This space is for thoughts, words, moments of clarity, tiny sparks of great ideas, those lightbulb moments… Pop them in the Good Thinks circle before they disappear again.
A Notes space – for those little reminders.
I am grateful for… Being grateful on a daily basis can help change our outlook to a more positive one. Having an attitude for gratitude is a great way to remind yourself of things in your life that you are thankful for.
Flow Space where you can free your thoughts. Unleash doodles, sketching, etching, random words… whatever helps your ideas emerge.
Self-Care for Today: This is something that many people don't prioritise, even though we know it's so good for us…if you schedule it, you're more likely to do it and it will feel like it's part of your day. Burnout is a very real occurrence, especially common for creatives. So be sure to help yourself to some deserved self-care as a priority without guilt.
Reflect and Review pages are threaded throughout, where you can evaluate projects or ideas as you like.
Inspiring quotes
Dimensions of The Creative's Planner
A5-sized (210mm x 148mm)
356-page
Case-bound book
Portrait orientation
80gsm paper
2 satin ribbons
We recommend a biro-style pen for optimum writing in The Creative's Planner.
Environmentally-Conscious Printing
The Creative's Planner is sustainably printed in the UK, by Print On Demand (POD) – an environmentally responsible and Green award-winning printing company. They are also working towards becoming carbon-neutral across all of their operations.
For each book that is produced, POD are able to calculate carbon emissions, and offset these with a tree planting programme.
POD is both FSC® & PEFC certified, meaning the paper used for books production is sourced from sustainable forests.
You can read more about POD's environmental credentials here: https://www.printondemand-worldwide.com/about-us/environmental-credentials/
Planner resources coming soon!